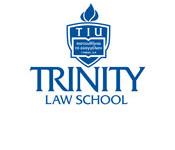 Trinity Law School prepares students by offering a legal education from a biblical perspective. It is one of the few evangelical law schools with a focus on the integration of law and theology. Accredited by the State Bar of California, it is a community of professors, lawyers, and students committed to pursuing justice. Programs include the Juris Doctor.
Juris Doctor (JD)
In addition to admissions requirements, students must complete 90 units of study with an average of C (a GPA of 2.0). Students must attend at least 80 percent of the regularly scheduled class hours in each course to receive credit for that course.
Both the full and part-time degree plans must be completed in five years or less. The full-time program must include at least three consecutive academic terms within five years; the part-time program must include at least four consecutive academic terms within five years.
Any student with a disability requiring special arrangements will be accommodated upon petition, with supporting documentation and pending approval from the Dean. Special accommodations will be carefully tailored to meet the documented need in accordance with the Trinity Law School disability policy.
Academic Year
The academic calendar consists of two 15-week semesters each fall and spring, with the option of additional summer courses. See our current Academic Catalog for information on courses and full- and part-time program options.
Check the website to view the typical full-time schedule and part-time schedule.
2015-2016 Trinity Law School Tuition & Fees
JD Tuition…………………………………….$895 / unit
Examsoft and Academic Support…$200 / semester
Audit Fee……………………………………..$325 / per course
Graduation Fee…………………………….$225
2015-2016 Indirect Costs (Per Semester)
For us to determine your financial need, we are allowed to include the following expenses in your cost of attendance. These expenses are not charged to your Trinity student account; however, they are expenses you should consider.
Living Expenses………………………….$6,400
Books and Supplies…………………….$500
Transportation……………………………$700
Personal Expenses………………………$1,300
While the indirect costs above are those we are allowed to use for determining financial need, the estimated expenses for any individual student will vary based on a number of factors.
2015-2016 Tuition Estimates / 90 Unit Law Program
3 Year Schedule (15 units per semester)
Annual Tuition……….$26,850
Annual Fees…………..$400
Total………………………$27,250
4 Year Schedule (9 units per semester +3 summer semesters of 6 units ea.)
Annual Tuition……….$21,480
Annual Fees…………..$600
Total………………………$22,080
The average financial package for the 2014-2015 school year was $27,500. See more information on financial aid here.