Product Description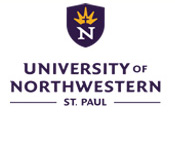 University of Northwestern – St. Paul is a Christian liberal arts university in suburban St. Paul, Minn. Providing an invaluable integration of faith and education, Northwestern offers 70+ areas of undergraduate study, six master's degrees, PSEO and early college programs. Online options are available in all venues. Northwestern Media, a ministry of UNW, operates 15 Christian radio stations throughout the Midwest.
Looking for a Christ-centered learning experience?
University of Northwestern provides education that is grounded first and foremost in the truth of the Bible. We are motivated to glorify God in our learning and therefore consistently pursue academic excellence.
Undergraduate Degrees
Northwestern offers over 70 different majors, and if you don't find the one that you're looking for, create your own degree through our Interdisciplinary Studies program! From biology to english, business to music, Northwestern has the degree that will equip you for a job after graduation. Check our website for all the degree information you need.
Adult Undergraduate Degrees
• General Studies – AA
• Accounting – BS
• Business Management – BS
• Communication Studies – BS
• Health Psychology – BS with concentration in Applied Behavior Analysis
• Ministries – BS
• Psychology- BS with concentration in Marriage & Family
Graduate Degrees
• Master of Arts in Education
• Master of Arts in Human Services
• Master of Arts in Theological Studies — Also available: Graduate Certificate in Christian Studies
• Master of Business Administration
• Master of Divinity
• Master of Organizational Leadership — Also available: Graduate Certificate in Christian Studies
Afford your education
Your Northwestern education is an investment. We're committed to helping it be affordable.
Northwestern awards financial aid to every student. That's right—every student. Not only do we offer scholarship, grants and loans, Northwestern provides students with tools and resources to help you afford your education and pay off debt.
On-campus resources
Center for Calling & Career: The CCC assists students and alumni in finding professional employment. They provide coaching on job search methods, resume and cover letter writing and interview skills.
Office of Financial Aid: The Financial Aid Office staff is available to meet with students and families to help understand the complexities of Financial Aid including institutional gift aid, need based aid and loans and non-need based aid and loans. (Billing questions should be directed to Student Accounts.)
Interactive tools
Net Price Calculator: This form estimates financial aid for undergraduate freshmen students.
Debt Wizard: Determine how much can be borrowed in student loan funds based on future expected earnings and the salary needed in order to afford student loan payments.