Product Description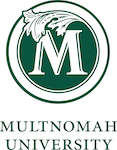 We're a multi-denominational, Christian university in the heart of Portland, Oregon, consisting of an undergraduate school, graduate school, and seminary. We also offer online degrees. Our faculty and staff support and mentor students as they prepare for a life of impact. Multnomah University offers bachelor's, master's, and doctorate degrees.
Multnomah University
Undergraduate Programs
Aviation Technology
Bible & Theology
Business
Business & Organizational Psychology
Educational Ministries
Elementary Education
English
Global Studies
Greek
Hebrew
History
Music
Pastoral Ministry
Psychology
Summit (Five-Year BA/M.DIV Degree)
Tesol
Youth Ministry
Degree Completion
Biblical Foundations
Leadership & Ministry
Management & Ethics
Seminary Programs
Doctor Of Ministry (D.Min.)
MA in Applied Theology (MAAT)
MA in Biblical Studies (MABS)
MA in Christian Leadership (MACL)
MA in Theological Studies (MATS)
Master Of Divinity (M.DIV.)
Master Of Theology (TH.M.)
Graduate Programs
Master of Arts in Counseling
Master of Arts in Global Development & Justice
Master of Arts in Teaching
Master of Arts in Tesol (Teaching English to Speakers of Other Languages)
Financial Aid
A Multnomah education is an incredible value. Countless graduates have emerged as insightful scholars, compassionate leaders and agents of positive change. So can you.
But if you need help paying for your education, you're not alone. More than 90 percent of our students receive some form of financial aid, and we offer a wide array of scholarships, grants and awards designed to meet your needs. A little math will surprise you, and our financial aid counselors will provide the guidance you need. Count on it.
Please see the website for Financial Aid information.